Once you have added a child to your account you can select to enroll them in the child care provided by your district or organization directly from your dashboard.
1. Navigate to your program's Eleyo site and click Sign In.
The Sign In page is displayed.
2. Sign into your account.
Your Dashboard is displayed.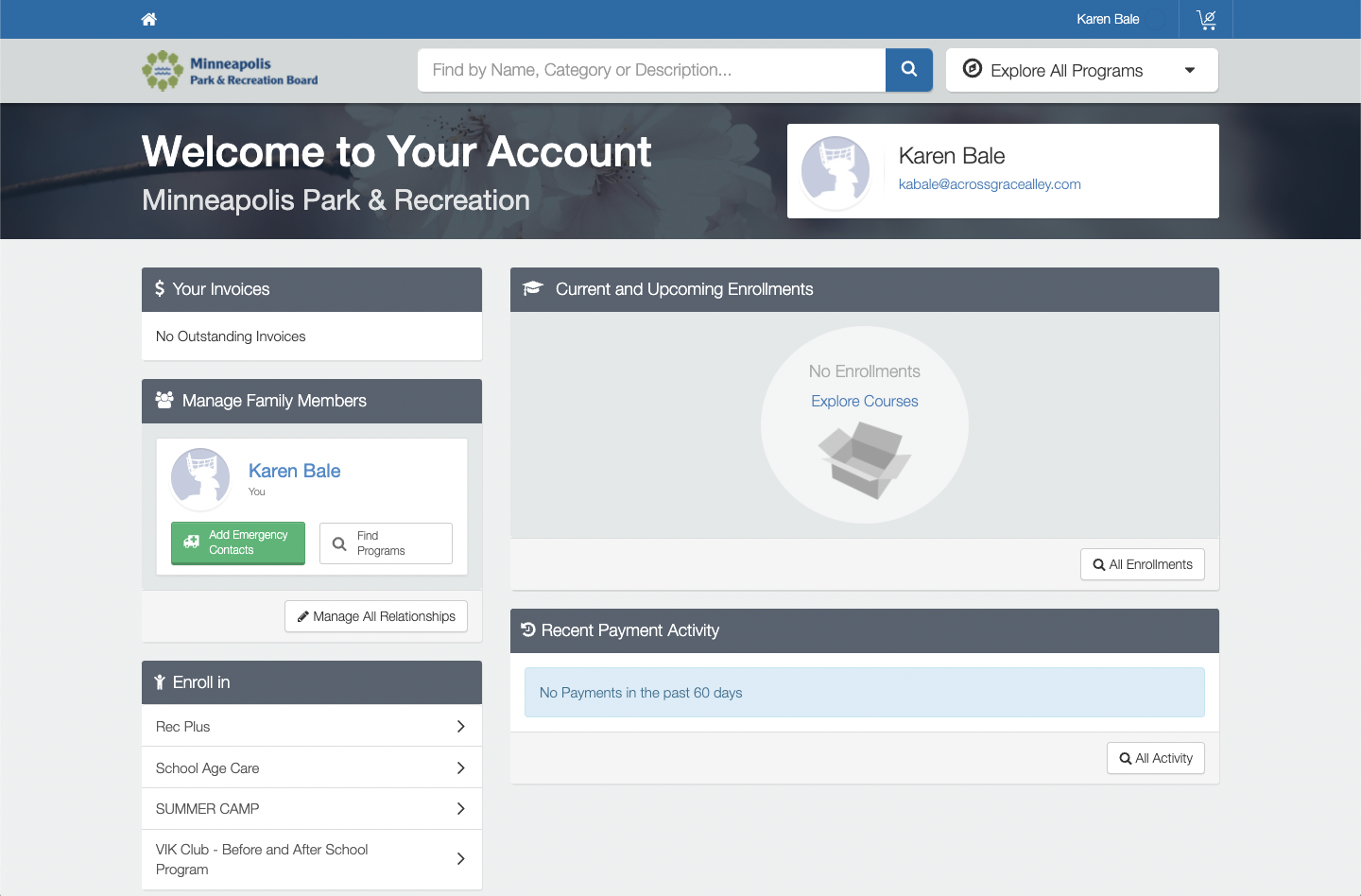 3. Under "Enroll In" select the desired child care service.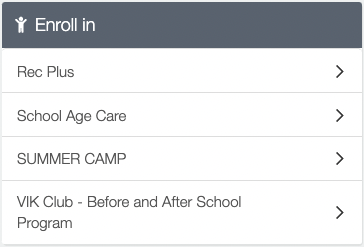 The registration page for the selected child care service is displayed.
4. Under "Attending Child" select the child you would like to enroll, or click Add New Child.
Clicking Add New Child will provide a form to enter the child's details. Once completed, click Add New Child.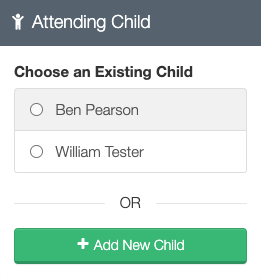 5. Once selected, click Looks Good. Start Registering.
The Emergency Contacts and Authorized Pickups screen is displayed.
6. Review your displayed Emergency Contacts and confirm they are authorized for drop off/pick up, or click Add Emergency Contact to add new emergency contacts.
First time registrants must enter at least one emergency contact.
Note: Districts or organizations may set a minimum number of emergency contacts that are required for each child.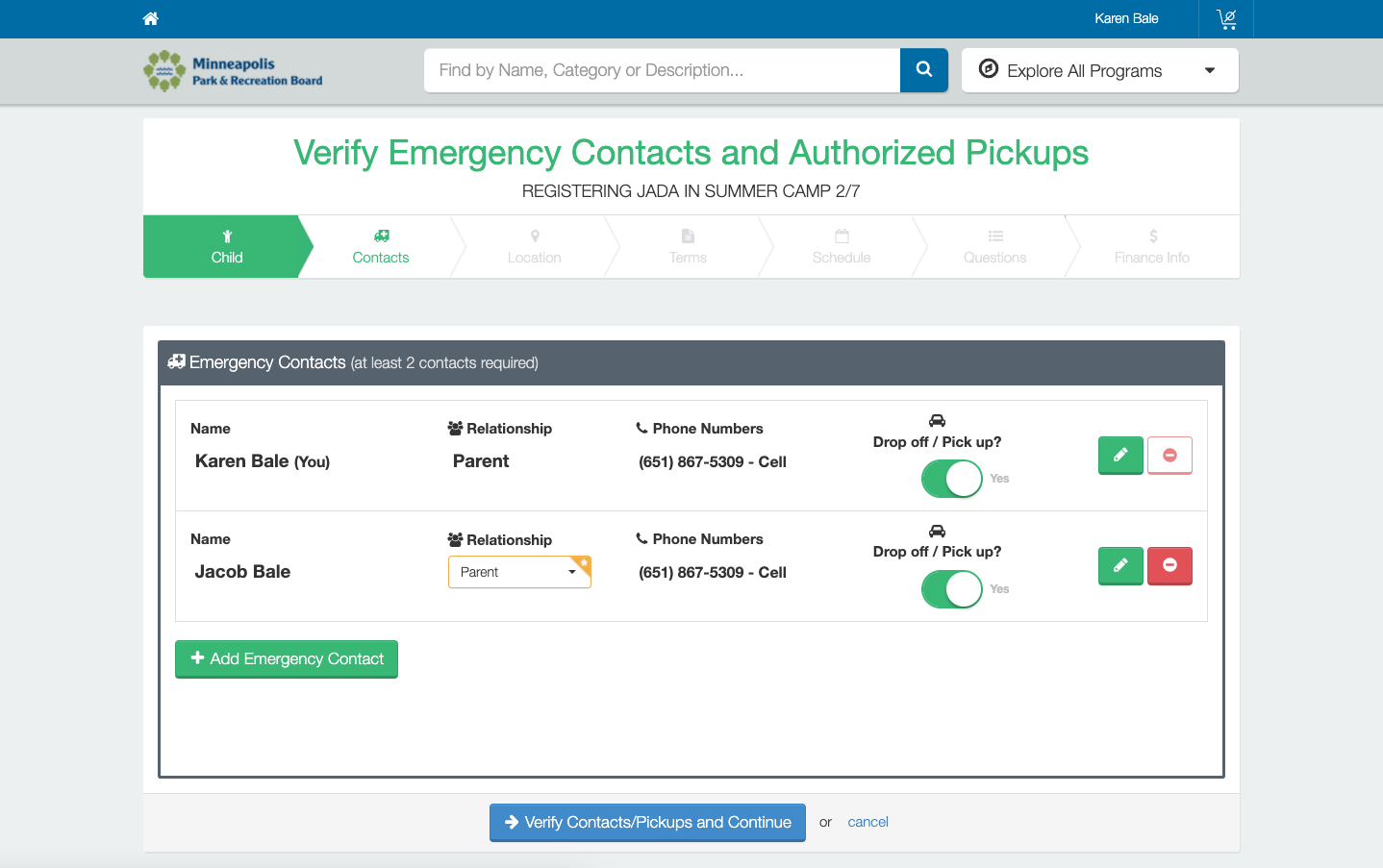 7. Once complete, click Verify Contacts/Pickups and Continue.
8. Review the displayed program and season information, then select your child care location.
9. Click Use Location and Continue.

Note: If your district has setup terms and conditions or any required questions for registering in child care, you will be presented with them here.

The contract schedule page is displayed.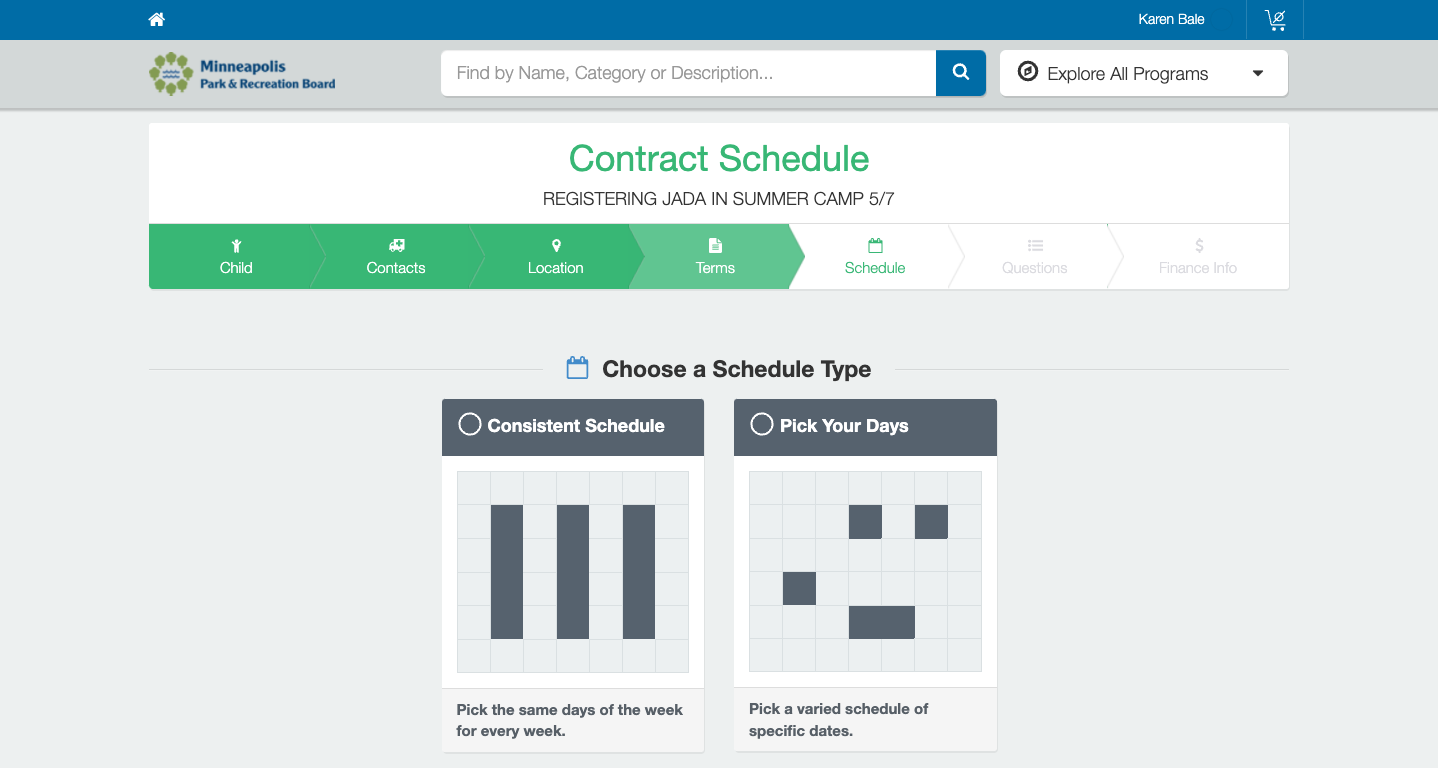 10. Select your schedule type as either: Consistent Schedule, Pick Your Weeks, Pick Your Days, Drop-In, or Non-School Day.
Note: Schedule Types are set by the district or organization, not all options may be available.
Consistent Schedule: Pick the same days of the week for every week.
Pick Your Weeks: Choose consistent days but pick the weeks of attendance.
Pick Your Days: Pick a varied schedule of specific dates.
Drop-In Days: Pick selected days for emergency care without other contracted care.
Non-School Days: Allows child care on non-school days without other contracted days.
Depending on your selection, you will be presented with different scheduling options for selecting days or weeks of care.
11. Choose your dates and times.
12. Once your schedule is selected click Complete Schedule Setup and Continue.
13. If required, complete the required questions and click Complete Questions and Continue.
The listed questions are designated by the district or organization that provides the child care and can vary from program to program.
14. Select an existing payment method or click Add Saved Payment Method.
Selecting to add a payment method will prompt you to add a bank account or credit/debit card for payment processing.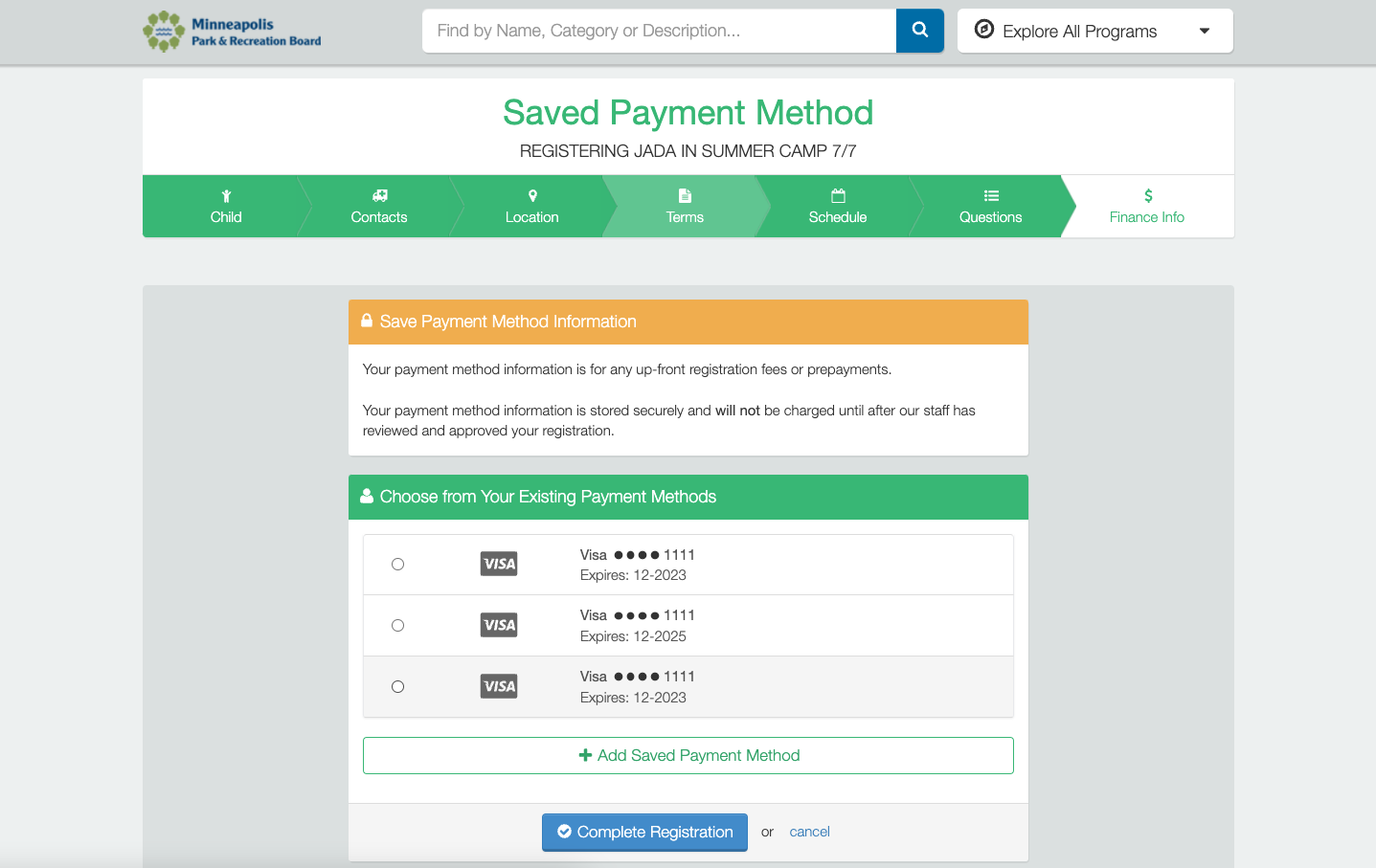 15. Click Complete Registration.
The enrollment confirmation page is displayed.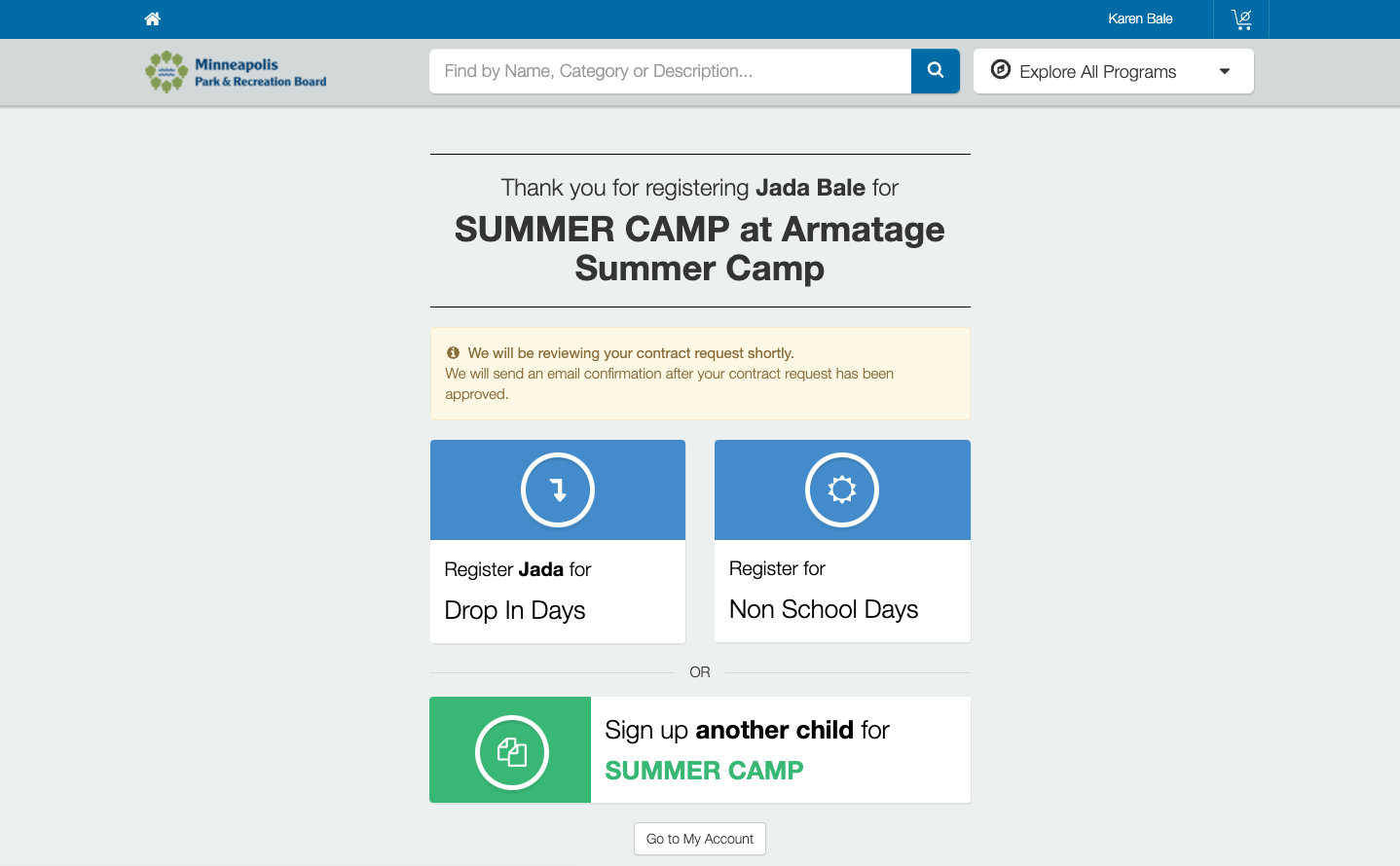 Your request for child care is submitted and is pending approval from the district. When the district has approved the request, you will receive an email confirmation of the approval.