The Address Mailing Labels is a pre-made report that can be exported from the system to create standard size mailing labels. The List Data Label report can be used for a variety of purposes like name tags, file folders, to apply on forms and much more!
When printing labels from the system, the default format uses Avery 5160 labels or an equivalent with the dimensions of 1 in. by 2-5/8 in. (30 per sheet).
When running the List Data Labels report, staff can add or remove columns on the fly. Each column is populated in one row on the label and you can include up to 5 rows of data. For example, if you want First Name Last Name on a single row, use User Name as Row 1. If you want Last Name First Name, use User Formal Name as Row 1. If you want First Name on the top line and Last Name below it, set User First Name as Row 1 and User Last Name as Row 2. For any rows that you do not want any information, use the (Blank Row) option found at the top of the list of data selections.
Use the following to run the report from the desired list view:
Select

Reports

in the top left (near your name)
Select Address Mailing Labels or List Data Labels

from the choices in the middle column.
Select

Run Selected Reports.
When the new menu appears, choose what data to include.
Select

Continue.
When the

Download Finished Report

changes to green, select it to open the PDF document.
Label Formatting and Alignment
While there isn't a way to change the default label format being used, if necessary, you can use the Save As option to save the default label PDF as a Word document. You can then make any desired changes (i.e. adjust the font, etc).
A common issue with printing labels from any program is that they may not line up correctly. It can be helpful to to do a test print on regular paper before using the actual labels to ensure it is aligned as expected.
If the alignment is off, the following settings can be reviewed. Note: These options can vary depending on what version of the application being used (Adobe vs other PDF viewers).
When printing from Adobe Reader, make sure that the 'Auto-Rotate and Center' or any Auto-Rotate settings are disabled/unchecked. Also, make sure that the Page Scaling drop-down is set to 'None'. If your version of Adobe is not displaying those options, there may be one called Page Sizing & Handling that should be set to 'Actual Size'. Page Scaling should be set to Fit or the Fit Printable Area setting should be enabled.
Screenshot of a PC printing from Adobe Acrobat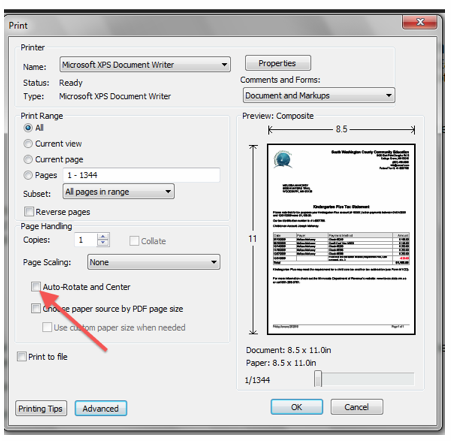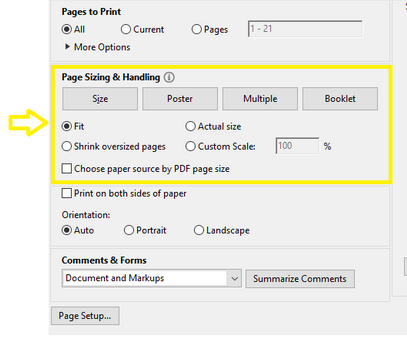 Screenshot of a Mac printing from Preview