Schedule changes may be requested by your families on the Public side of the Eleyo system.  Parents can also request to withdraw their student (i.e. if they are no longer attending the program). Staff with Administrative rights can also modify a contract or withdraw it from the Administrative side of the system. 
Rules such as number of days out a change (schedule, withdraw, drop-in day and/or Non-School Day requests) may be set up within the Program's Registrations Options and the individual Sites / Non-school Day Sites.  
Pending schedule changes and all other requests appear within the program's area of the system Dashboard on the Administrative side.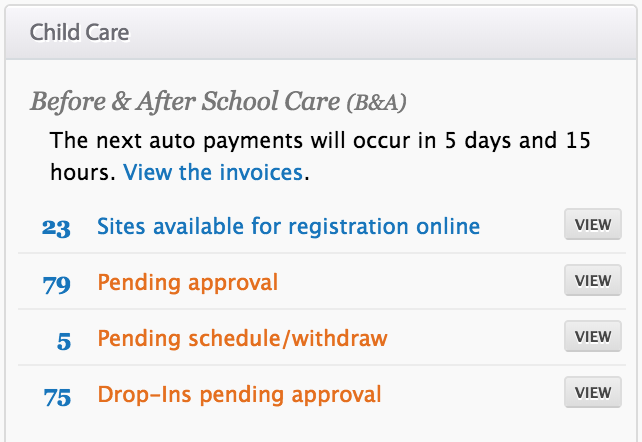 Review and Approve Schedule Change / Withdraw Requests
From the Dashboard, select View for Pending schedule/withdraw.
To view a schedule change before approving it, select the desired one then select Show Contract to review the request before proceeding to the approval screen.
To approve a scheduled change, select the desired one then select Approve Contract.

After reviewing the requested change, select Approve Schedule Change.  If the Child Care Account Owner has an email address in the system, a confirmation email with details is automatically sent to all email addresses attached to all owner(s).  Tip:  Add any additional change fees using saved adjustments created through Child Care > Adjustments. Select Cancel to browse away from the approval screen.
If you are approving an online request made to withdraw or when selecting Withdraw on the Admin side, you will be prompted to enter a Withdraw Date.
For a withdraw request, there is an option to send an email to the parent confirming the withdraw request with a field to enter the reason for the withdrawal. The default is Yes. Change to No if you do not wish the account owner(s) receive an email.
For a withdraw request, select any dates for Drop-In Days or Non-School Days to also be removed when the contract is withdrawn. 
Once all items have been updated, select Withdraw.