Schedule changes may be requested by your families on the public side of the Eleyo system.  Rules such as number of days out a schedule change request, withdrawal request, drop-in day request as well as non-school day requests may be set up within the Program's Registrations Options and the individual Sites / Non-school Day Sites.  
Pending schedule changes and all other requests appear as alerts within the program's area of the administrative dashboard.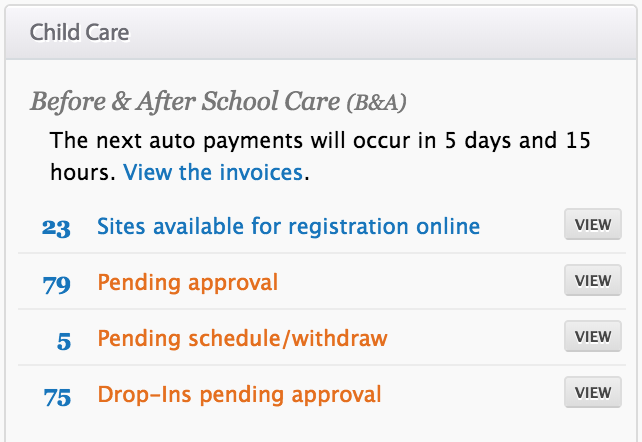 Review and Approve Schedule Change / Withdraw Requests
From the administrative dashboard, select the link to view Pending schedule/withdraws.
To approve a scheduled change, select a requested change from the filtered list view and select Approve Contract.

Tip:  Add change fees using saved adjustments created through Child Care -> Adjustments.


After reviewing the requested change, select Approve.  If the Account Owner(s) has an email address in the system, a confirmation email with details is automatically sent to all email addresses attached to all owners.  

Tip:  Select Cancel to browse away from the approval screen.
Note:  From the list of pending schedule changes and withdrawals, select Show Contract to review the request before proceeding to the approval screen.