Child Care Account Owners that need autopay to be split need to contact the Program staff to have it set up on the Administrative side of the system. For security, it is recommended to have each payer save their payment method online by logging in and selecting Saved Payment Methods from the footer on the Public side.
Split autopay does not have to be only 50/50. Any percentage can be used (including decimals, i.e. 49.5% and 50.5%). Also, staff can create an autopay where only one payer is paying less than 100% and the other payer is not using autopay. Important Note: If there is only one person using autopay, it is necessary that the other payer does not pay before the due date of the invoice. The payer not using autopay can and should pay on the due date but not before the auto pay is run for the account (usually early morning between 4-5AM CT). If the person not on autopay pays before the autopay is run, the system will only charge the payer using autopay the pre-set percentage of the remaining balance due.
Important Note: When staff is setting up a split autopay from the Administrative side, if there is already an autopay up on an account, you must first remove the existing one using the red Remove icon. If you do not remove that auto pay, the system will reflect that an auto pay for 100% already exists.
Once a split autopay has been set up for a Program and Account, the payer can log in online and modify the payment method being used for that split autopay (i.e. in case a card has been compromised, lost or stolen, if they had to close a bank account, etc). They can not remove that split autopay online. They also can not modify the percentage for the auto pay that was set up by staff.
Split auto pay online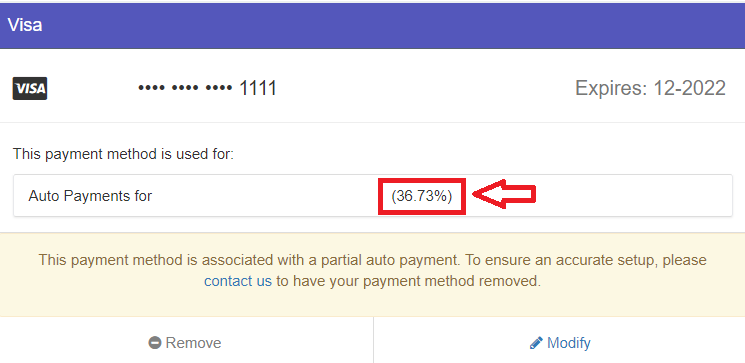 To add a split AutoPay to a Child Care Account between two or more payers, follow the steps below:
Point to Child Care.
Select Accounts.
Search for and select the desired Account, then select Show Account.
If there is already a 100% auto pay set up on the account, select the red Remove icon on the left to delete the existing one.
Select the Add AutoPay.
Complete the Add Auto Payment Method form indicating the Percentage to Charge for the first payer and reflecting their payment method.
Select Add Auto Payment Method to save it.

Complete steps 5 through 7 for the second payer indicating the Percentage to Charge for the second payer and reflecting the 2nd payer's payment method.
Select Add Auto Payment Method to save it.