Non-School Day care is provided via a Non-School Day Site (NSD site). Students with contracts for regular care can register for Non-School Day care. There is also an option to allow students that only need care on Non-School Days (early release, break camps, etc) to register using the Non-School Day Only contract type. The types of contract schedules available for a Season are set up under the Registration Options menu (Child Care > Registration Options).
Non-School Day Only Contracts
When you enable the Non-School Day Only contract type in the Registration Options, the system automatically creates a placeholder site labeled Non-School Day Only. Some teams rename that site to better reflect who should create a contract for that site (i.e. Holiday/Early Release Only Registration or For St Paul Students Not Currently Attending Kids Company). In addition, staff should include the same agreements and/or question templates that are associated with the regular care sites. Setting up the Non-School Day only site that way will ensure that families who are registering for these Non-School Day Only contracts are answering the same agreements and/or questions as those that already have regular care contracts.
Note: You must include a Budget Code for the Non-School Day Only placeholder site. It can reflect any budget code used for that Season. The invoicing will reflect the Budget Code of the Non-School Day Site that has been accepted for that contract.
Families that currently have a regular care contract would use the Register Non-School Days found on the Dashboard. Families that only need non-school day care would select this Non-School Day Only placeholder site as their location then complete the rest of the online contract creation process. Those contracts would be in a pending status (just like regular care contracts) for staff to review and approve.
Online Registration Start Dates
The NSD site has 2 ways to open online registration: Simple Registration and Per Day Registration Periods (shown in the screen shots below). Simple Registration sets the same online registration start and end dates for all care dates for the particular NSD site. By default, the Simple Registration will set the online start and end dates based on the number of days out for new care requests that are set under the Registration Options. Per Day Registration allows staff to set unique online registration start and end dates for each date in the particular NSD site. For example, if school breaks that run on different schedules with different registration end dates, you can use the Per Day Registration Periods to open and close the registrations for each day of those breaks. If Spring Break runs March 16-18 and you want the registration for that to end on March 1st then Winter Break runs December 23-24 and you want registration for those dates to end December 1st, you can set those using the Per Day Registration Periods. Per Day Registration can also be used to close a particular NSD date when it is full and can no longer accept new registrations. At any time, you can change from Simple Registration to Per Day Registration to accommodate the NSD current registration needs.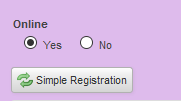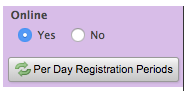 Example of a date within the NSD Site using Per Day Registration Period that has been taken offline (check box for one date is not checked).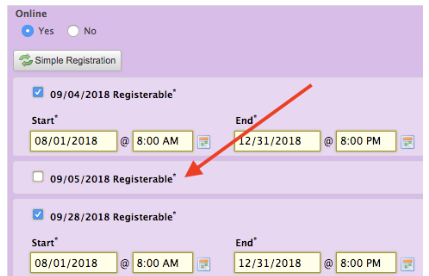 If a Program requires students at specific regular care sites to attend a specific NSD site, an Administrative user can select the regular care site(s) the system should default to when a parent is creating a NSD request. That setting does not keep a parent who should not be registering for a particular NSD site from selecting a different site. It does try to encourage them to use the default.
All Non-School Day requests that are made online are pending until staff review and can be denied if it does not meet the correct parameters.
To set up Non School Day Sites, follow the steps below:
Point to Child Care.
Select Non School Day Sites.
Select Add Site.
Complete the New Non School Day Site form.
Select Create.
A NSD Rate must also be created for online registration to be available for that NSD site. Use these steps to create the NSD Rate.
Point to Child Care.
Select Rates.
Select Add Rate.
Complete the New Child Care Rates form. On the left, ensure the setting for Non-School Day Sites is selected. Ensure the correct NSD Sites are selected in the green Where section.
Select Create.