There are a variety of pre-made reports that can be accessed from the Reports menu. When any report is selected from the choices on the left side, the system displays details about that report on the right along with any alternate system locations the report can be run from.
The top section of the Reports menu displays reports that are intended to be generated directly from that menu. When a report from the top section is selected, information about the report is displayed on the right. In addition, the parameters for that report are displayed along with a Run Report button.

The bottom section of the Reports menu displays reports that are intended to be run from a list view within the corresponding module. When a report in that section is selected on the left, the module specific list view for these selected reports can be accessed using the hyperlinks displayed on the right. When running a report from a list view, there is an Information icon (the lowercase 'i') that when selected, provides additional details about that report and displays a sample thumbnail picture of it.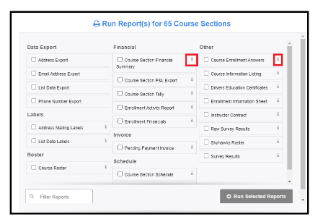 To view a listing of all System Reports and/or to run a pre-made report, follow the steps below:
Point to Reports.
Select Reports.
Select the desired report from the left. View the details of the selected report on the right.
If running the report directly from this menu, update the required parameters then select Run Report. When the report has finished running, select View Results in the green box in the bottom right.
If running the report by selecting one of the hyperlink, when the corresponding list view is displayed, select the Reports button in the top left (near your name). Select Run Selected Reports. Update the parameters and select the report output format then select Continue. When the Download button changes to green, select it to view the report.