Child Care Programs that are using the Child Care Attendance app on the iPad for student sign-in and out (or, are editing attendance manually on a daily basis), may print the Late Pick-up/Early Arrival Adjustments Report for an entire Site, Non-school Day Site, Site Section or an individual Contract.
NOTE:  The system also allows for automated Late Pick-up/Early Drop-off fees to be assigned based on parameters set by program administrators in Child Care -> Seasons.
Printing the Late Pick-up/Early Arrival Report
Select Child Care
Select Sites -or- Site Sections -or- Non-school Day Sites -or- Contracts
Search for and select the Site -or- Site Section -or- Non-school Day Site -or- Contracts
Select Reports in the upper left corner of the screen
Select the Child Care Late Pick-up/Early Arrival Report
Select Run Selected Reports.
Update any of the Data fields (date range) and the desired output format. 
Select Continue.
When the report is finished running, select the Download Finished Report(s) to view, save and/or print. Select Send via Email to send as a link via email.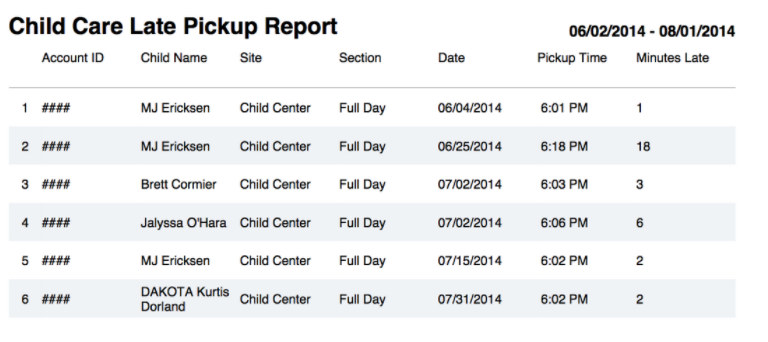 Note: When an Administrative user manually edits attendance for a student, the fee adjustment for the late pickup/early arrival is not automatically cleared.  The fee adjustment may be removed from the Account Show Page.  In addition, if the fee adjustment has already been included on a past invoice, that invoice may need to be removed prior to removing the adjustment. It is possible to remove the fee adjustment from the Account without editing the attendance in order to keep an accurate history.

All fee adjustments are listed within the Child Care Adjustments List View (Child Care > Adjustments) and may be filtered by keywords; Late Pick-up or Early Arrival.


Click here to learn how to set up Automated Late Pick-up and Early Arrival Fees