Registration Fees can be set-up when creating or modifying the Registration Options for a Program.  When multiple Registration Fee options exist for a Program and the Collection Time is set to When Contract is Accepted, the applicable registration fee can be selected from a drop-down list of choices when the contract is accepted or when processing the registration. Note: The Child Care Program must be created before any Registration Options can be set up.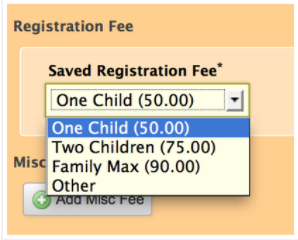 To create Registration Fee options, follow the steps below:
Select Child Care.
Select Registration Options.
Select an existing Registration Option and select Modify Option.
-or-
Select Add Option.
Use the Add Registration Fee Option button to add additional options. 
When all Registration Options have been added, select Save or Create.